Veteran's Commemorative Factory Seconds
Regular price
$169.00 USD
Sale price
$99.00 USD
Unit price
per
Sale
Sold out
FOR DRIED HERB
---
Dedicated to those courageous prior armed service members, the Special Edition Veteran's Commemorative Launch Box is designed to extract the beneficial & medicinal properties of dried herb & flower for your enjoyment & wellbeing with no combustion. All Factory Seconds have minor cosmetic imperfections but are completely functional.

This rugged & reliable Vet Box delivers the cleanest & purest herbal experience available. Branded with the waving American banner & 'VETERAN' prominently along the side, plus a special tribute branded on the back of each BOX.
For the perfect LAUNCH, use the Finishing Grinder for an ultra-fine grind. Maximize your yield & save money!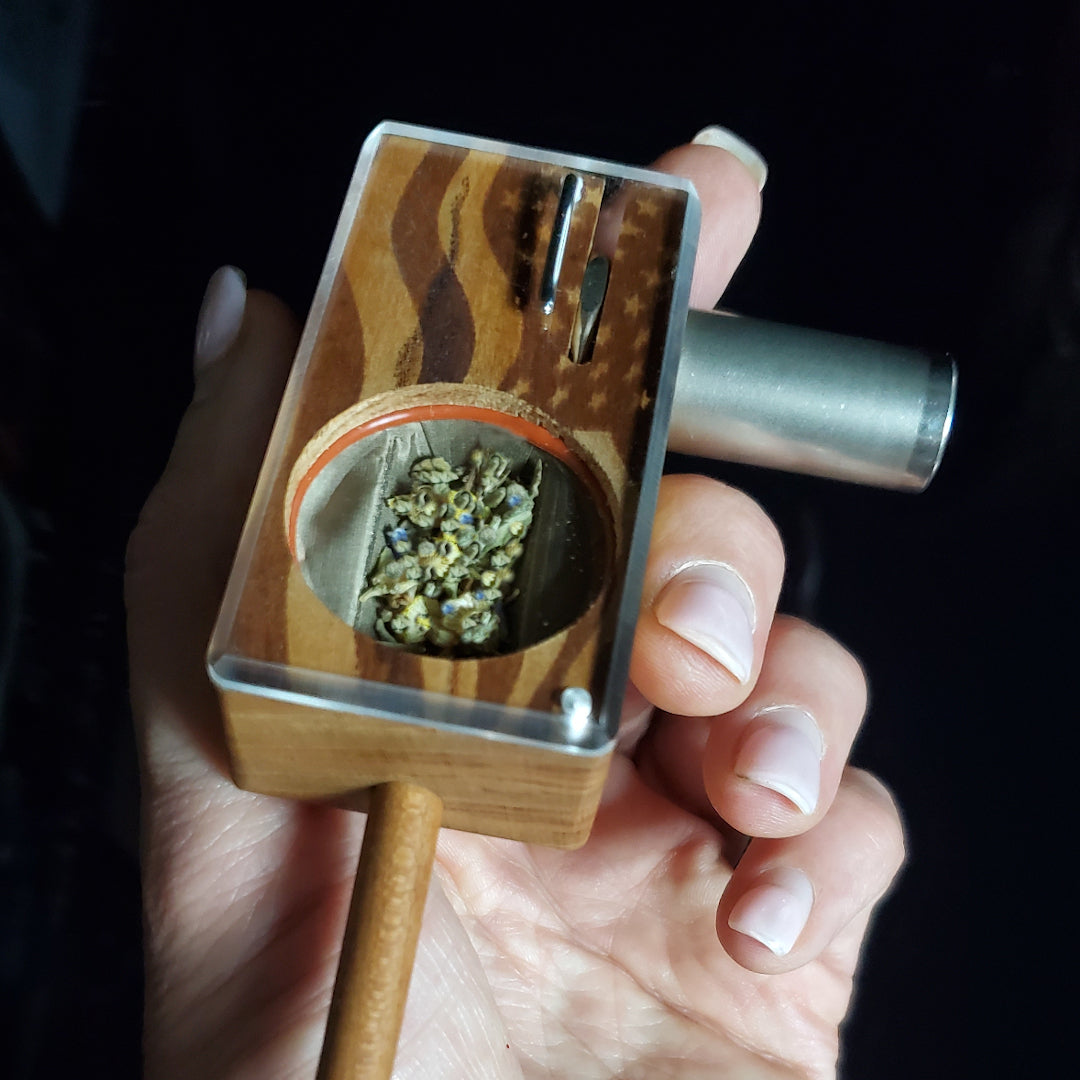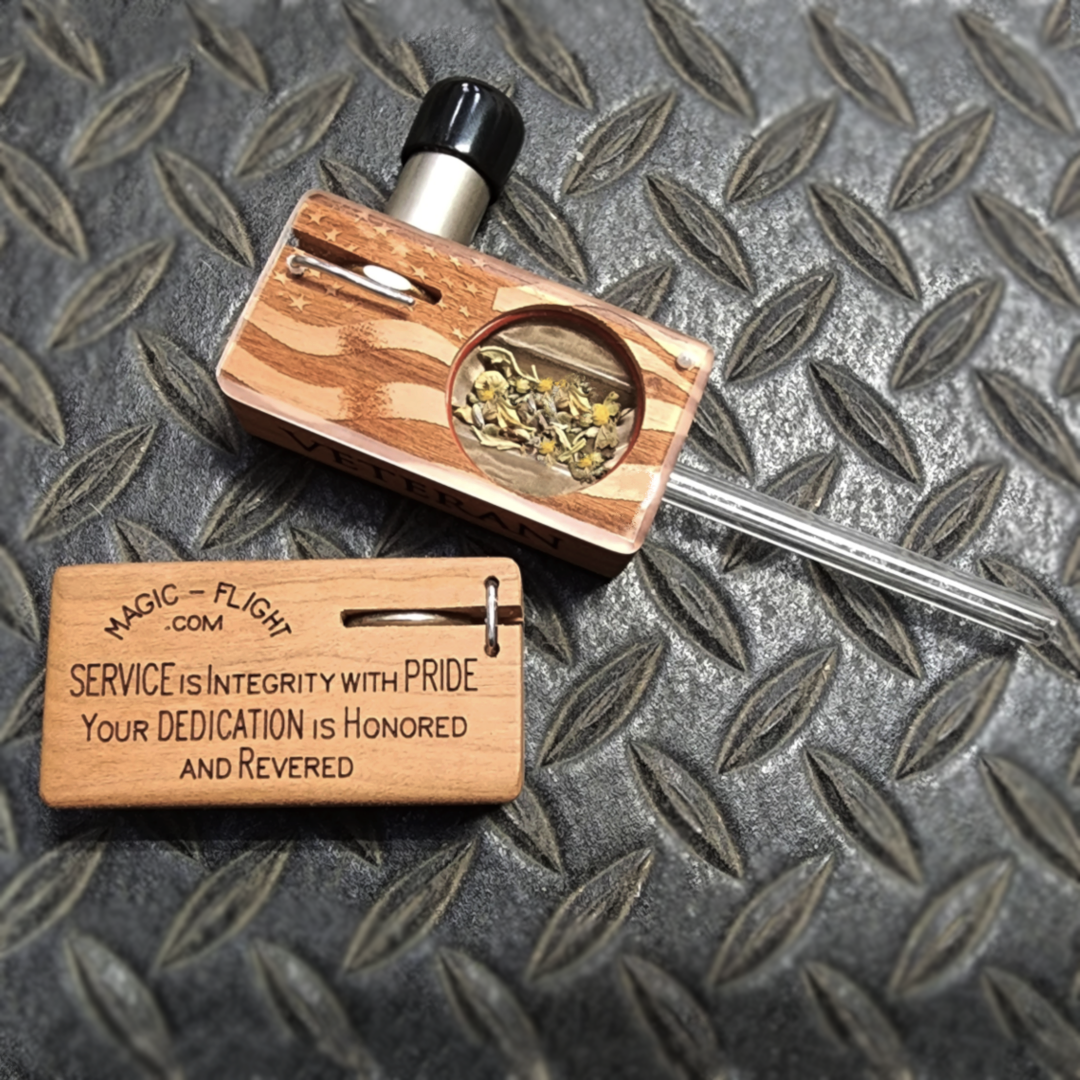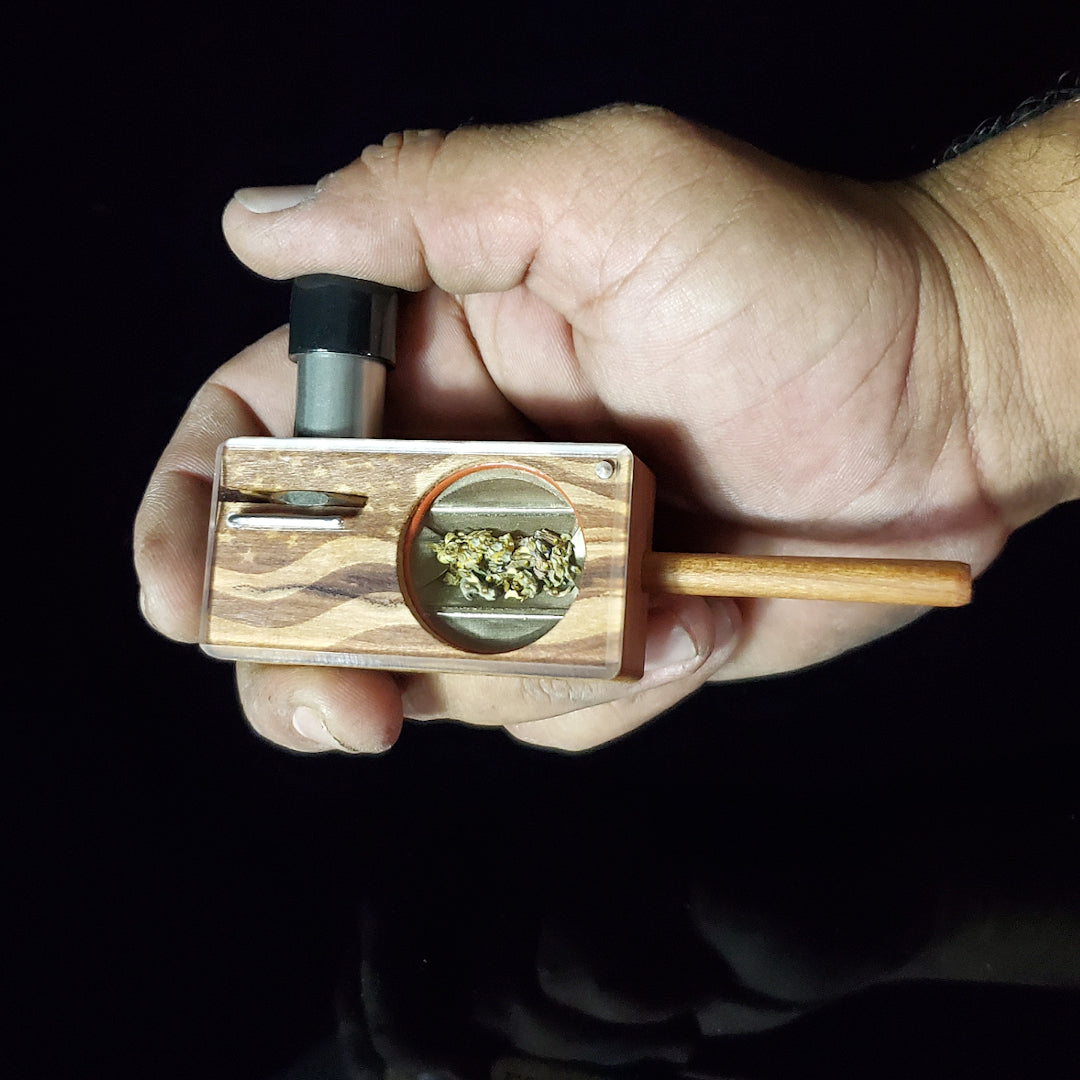 For Dried Herb
The most effective extraction method to enjoy the flavorful essence of your favorite dried herb or flower.
Patented Technology
A powerful & discreet handheld device designed to work quickly & efficiently with no combustion.
Easy to Use
Swivel the lid open, finely grind your dried herb into the screen trench & pop in your power source to LAUNCH!
External Power Source
Choose your own adventure! Three convenient options for at-home, on-the-go or ANYWHERE.
No Electronics
Extremely reliable with no internal plastic or moving parts & no circuit board to fail.
Modular Gear
Select accessories to customize your experience. The FINISHING GRINDER creates the perfect LAUNCH!
Economical
Zero herbal waste. Increase your herbal yield by 2-3 times. Post-LAUNCH herb can be consumed as an edible.
Fast to Heat
Superior 360 degree airflow. Instant heat & cool down. Reaches 370-420°F in 3-5 seconds.
Organic Materials
Hardwood with natural antimicrobial properties, pure stainless steel for max durability & finished with food-grade mineral oil.
Crafted in the USA
100% produced in-house with LOVE & meticulous care by skilled local artisans in sunny San Diego.
Solid wood construction
Stainless steel screen
No solder or heavy metal
Contains no internal plastic
No electronic circuitry
No internal moving parts
Durable acrylic lid
Side chamber for external power supply
Frequently Asked Questions
What is the LAUNCH BOX®?

The LAUNCH BOX is a patented device handcrafted from a solid block of wood to extract the essence of dried herbal plant material.
How does the LAUNCH BOX® work?

GRIND, SIP, SHAKE.. REPEAT!

1) Finely GRIND your dried herbal material into the trench using the Magic Flight Finishing Grinder.
2) Pop your power supply (1) Jet Pac, (2) Power Up 3.0, or (3) Magic Flight AA Battery into the side of the Box.
3) SIP as the stainless steel screen heats to 380-420*F in 3-5 seconds. SHAKE the Box between sessions.
4) Easy clean. When finished gently brush out the herbal material with the Cleaning Brush. (No gunk, No gummy residue)
How is the LAUNCH BOX® powered?

There are three options for powering your LAUNCH BOX®:
(1) The JET PAC Power Bank provides adjustable temp control and boundless off-grid power with anytime, anyplace.
(2) The POWER UP 3.0 with its temperature control dial powers your box from any electrical wall outlet or 12-volt power outlet on-the-go.
(3) Magic Flight's AA Rechargeable NiMH Batteries.
How can the LAUNCH BOX save you money?

• With no internal moving parts, the LAUNCH BOX is reliable and built to last, with proper care your Box can last a decade or more.
• Efficient use of material with our 360* airflow design.
• Economical, collect and repurpose your ABB (Already Been Baked) material and sprinkle into your next batch of baked goods.
How versatile is the LAUNCH BOX?

• Choose from a variety of functional draw whips and stylish stems.
• Attach your BOX to any water pipe with the water pipe whip.
• Connect a Bubbler to your LAUNCH BOX for an ultra pure experience.
What are the advantages of the LAUNCH BOX?

The LAUNCH BOX provides an organic, pure and simple herbal experience:
• Rugged organic construction: solid hardwood and pure 304 stainless steel. (No solder, No heavy metal, No combustion, No smoke, No cartridges)
• Patented technology creates instant Heat and Cool down (No burning, No waste).
• Highly effective yet stealthy and discreet.
• Three different power source options.
• Customize your blend depending on the time of day, mood, set or setting.
• Three different Bubbler options for a ultra smooth and elevated experience.
Is my LAUNCH BOX Eco-friendly?

Yes, the BOX is green, renewable, sustainable, clean, and recyclable.
What is the loading capacity?

The trench capacity is approximately ¼ teaspoon (between 50 to 100 mg)